Version 2.2.0
More robust discovery of datarefs in X-Plane 12; discover which plugin 'owns' a dataref.
Published 2023-02-26
X-Plane 12.04 includes new APIs for discovering datarefs; this release uses those to more efficiently discover datarefs. There are a few implications of this:
DRT now comes with separate versions for X-Plane 11 and 12. The X-Plane 12 version requires X-Plane 12.04.
All datarefs, regardless of plugin, should now be found when using X-Plane 12.04+; X-Plane has a new way of helping DRT discover datarefs (but not commands).
In X-Plane 12.04 and later, we can now detect which plugin has created a dataref and is providing the value. This is in the "Owner" field (see image below).
A big refactoring of some internal code was necessary to support these changes.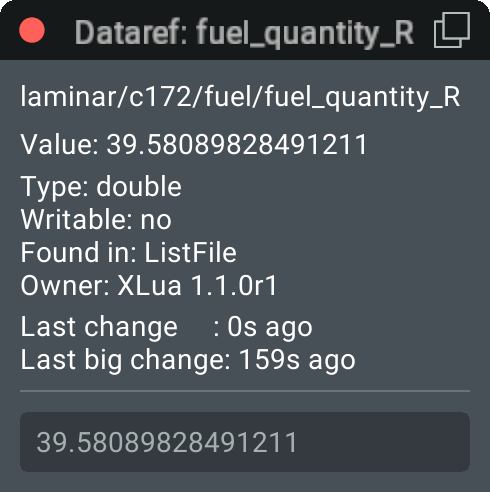 ---
Changes
New feature: Datarefs are now discovered via X-Plane's new APIs
New feature: Identify which plugin created a dataref
Fix: Crash when typing multiple whitespace characters in a row, e.g. two spaces
Fix: Crash when trying to set a dataref to an empty string